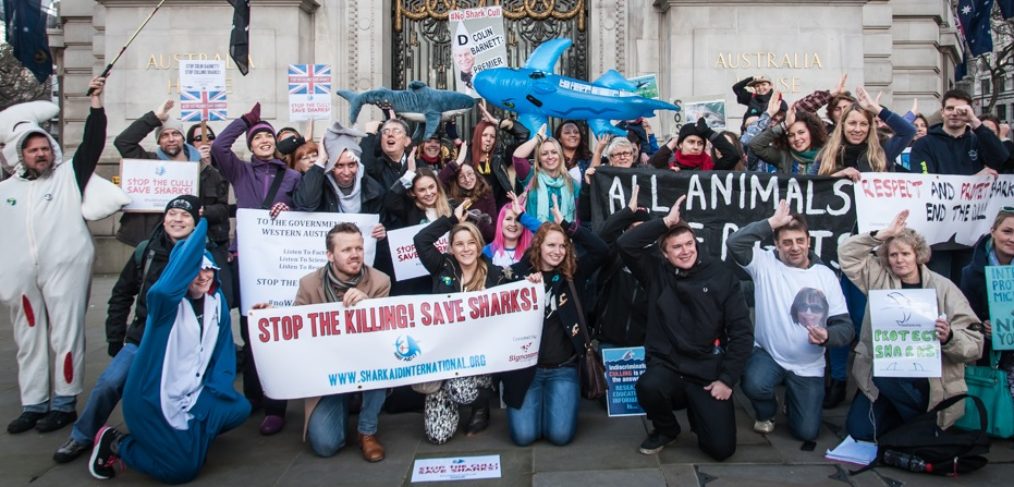 Shark Aid International: 'Out on the water, teaching about sharks'
Interview met Alex Wright, oprichter van Shark Aid International voor de website SharkNewz.
We're starting a new series of blogs in honor of people and organisations that help protect sharks. From research to raising awareness, from lobbying to actions and campaigns. Meet the Shark Heroes. In this first edition we talk with Alex Wright, founder and director of Shark Aid International. "We need to make the present day better for sharks if we want them to have a better future."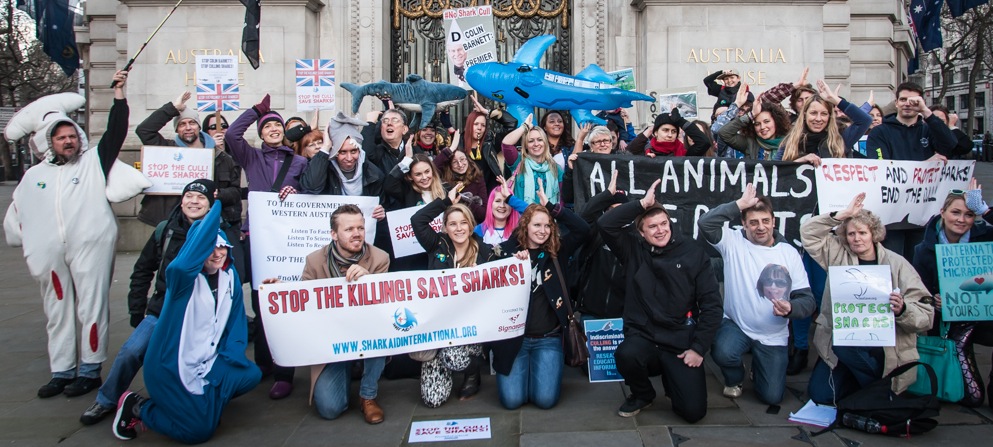 Who and what exactly is Shark Aid International? Can you tell us a bit about your organisation? How many people are involved? What are your targets?
Alex: "We are an international organisation that is concentrated solely on the awareness, education, protection and conservation of the global shark population. We started in the UK in 2012, focusing more on the litigation side of shark conservation, with a petition, contacting politicians and fisheries departments and targeting shark finning businesses to get them to stop selling shark product. We have since established a base in Florida USA, working with sharks directly and like minded shark and marine organisations, taken part in CITES campaign, international projects and campaigns and have grown to gain thousands of worldwide supporters. Our number one xaim is to be out on the water, educating people about sharks through tours, trips and showing people sharks in the wild, and through direct action. Helping individuals or species as a whole to create or uphold stronger awareness and protection."
You're the director and founder of the organisation/ What's your own drive to work for helping sharks? What made you decide to start Shark Aid?
Alex: "It started as a child for me. I've been fascinated by sharks my whole life. Once I got the chance to go out and dive with great white sharks in South Africa, my eyes were opened. Seeing them in the wild changed me. I returned to the UK and started Shark Aid International. Both our U.S Coordinator, Susana and I enjoy everyday learning more about sharks and doing what we can to help them. It's a deep rooted passion that has turned into a life time's objective to contribute in the biggest most pro-active ways possible to protect and conserve sharks."
Sharks are slowly losing their bad image, and more and more are aware of the dangers that they're in. For instance more and more countries ban shark fin trade or shark fin soup, and the protests worldwide against the Western Australian shark cull prove that. Do you feel that the tide is changing for sharks?
Alex: "We believe that it is a very long process of changing, but yes, for the better. Albeit very slowly, because there is still a huge misunderstanding of sharks and there is also still a lot we don't know about them. But more and more people each year are going out to countries to see sharks, more and more people learning about them and wanting to see them in the wild. The shark catch and kill policy in Western Australia has shown the huge international support of sharks, as 1000′s of people from all over the world took part in challenging and protesting against the cull."
What did Shark Aid International do exactly for this protest?
Alex: "There were protests in Australia, South Africa, America, Italy and other countries against the shark cull in Western Australia. After seeing so many people joining together to create such a huge opposition against the WA Government's decision we wanted England to contribute! We organised the "#noWAsharkcull LONDON RALLY" which was a great success! Around 200 people attended, all bearing placards, posters, shark toys, banners, megaphones and we all stood together, united outside The Australian Embassy to speak up for sharks! Journalists and photographers were there and we reached Australian news channels."
With this worldwide trend of more awareness and more protection, are you confident about the future of sharks?
Alex: "The problem with some of the parties involved in upholding shark protection laws, is that they can go back on their primary decision, or be pardoned from existing laws. This means the future of sharks could come down to political decisions. Which it should of course not be. There are many laws and policies in place to protect sharks and in some places are maintained in very successful ways, but with continuing threats like shark finning, overfishing, sport catch and kill and improper shark management such as culls, we need to make the present day better for sharks if we want them to have a better future."
What are the most urgent things we have to do to save sharks from near-extinction and saving the ocean ecosystems?
Alex: "Stopping the mass killing of sharks is of course the main objective. Concentrating on fisheries departments to make sure they are fishing sustainably, keeping to regulations. Stopping by-catch and overfishing from taking out huge numbers of sharks and marine life every day. These are just two of the goals we need to achieve for sharks. The most important thing is for all shark enthusiasts, divers, conservationists, organisations to work together and keep fighting to raise awareness of what is happening to sharks, engaging in projects with sharks in the wild, contribute to upholding and regulating protections for all sharks and continue to diminish their huge misunderstanding to help get more people to act and protect sharks."
What are actions that we can expect from Shark Aid International in the near future?
Alex: "Our biggest goal this year is our first sea vessel! We are very excited to get our own boat and be out on the sea, conducting independent research, shark trips and tours and anything we can do to help people see sharks in their wild environments, learn more and want to help protect them. We have been lucky to work out at sea with collaborative projects, so we look forward to continuing this too!"
Read more on Shark Aid International.